Hourglass Reed Diffuser
- Enhanced with functional scent technology jointly produced by Givaudan in Switzerland.
Regular price

$216.00

Sale price

$79.00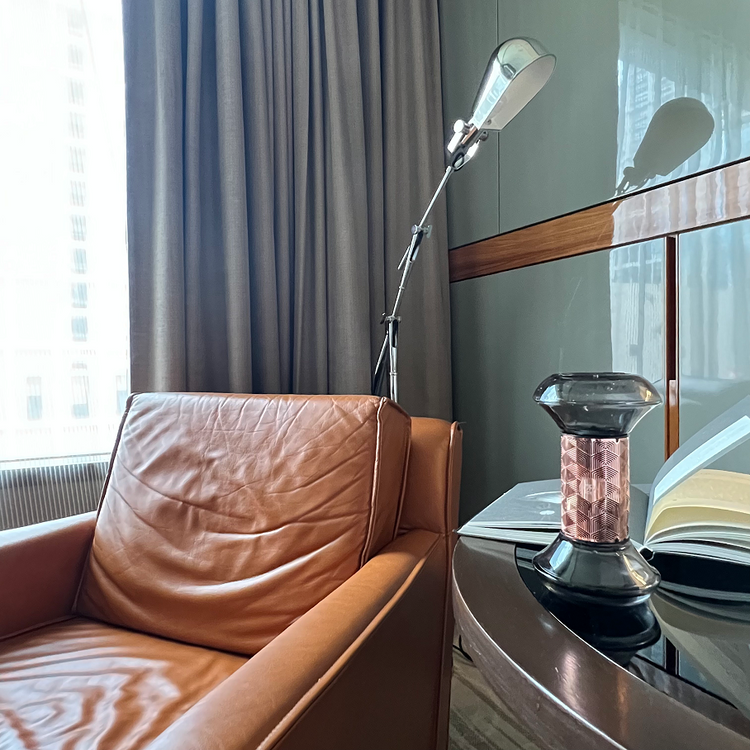 Ora Scent
Functional Scent is essentially the highway to our brain and is one of the fastest ways to impact our emotional state.
Of the five senses, scent is the only one with a direct line to three parts of our brain.
Functional scent offers the unique benefit of shifting moods while promoting well-being. The goal of functional scent is to support a healthy and balanced body and mind.
Our functional scents are designed in-house and jointly made by Givaudan. Givaudan is the world's largest flavours and fragrances company based in Switzerland.
Two Types of Functional Scents
Better Sleep

In-house formulated earthy aroma inspired by nature to calm & relax the nervous system to enable a better & deeper sleep.


Lavender & Bamboo
Infused with therapeutic nature ofLavender & Bamboo to promote relaxation, lower anxiety, reduce depression & insomnia


Application
Ideal for bedroom, living room & toilet use.

Better Focus

In-house formulated arousing aroma that helps to increase mental alertness, promote clarity, aid in memory improvement & relieve weariness.


Rosemary & Peppermint
Infused with functional brain-stimulating properties of Rosemary & Peppermint to comfort the brain & awakening the mind to improve focus.


Application
Ideal for office, work, exams, school, presentation, meeting and more..

"Functional scents technology jointly produced by Givaudan in Switzerland."
"In-house design & manufacturing"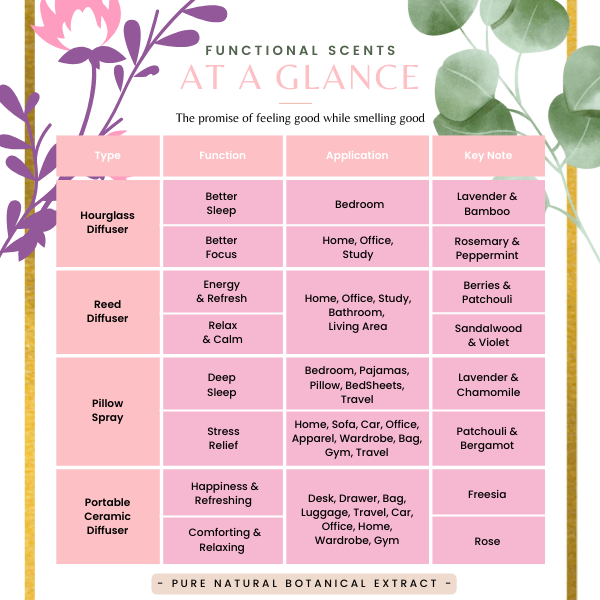 Range of Products
Ora Scent full range of in-house functional scent products
Last Glance
✅ Functional "Olfactory System" scent technology from Switzerland.
✅ Encourages better mood.
✅ No naked light, no candle, no electricity required.
✅ All natural plant extract.
✅ Phthalate-free, paraben-free & non-toxic.
✅ No artificial sweeteners, flavors or colourants.
✅ Long last formula.
✅ Tested, safe & certified.
Customer Reviews
01/06/2023
Meili C.

Singapore
A functional and pretty diffuser.
I got it for my Hubbie for his new office desk and he love it. A functional and pretty diffuser.
unique and nice to smell. it looks good as a decor too!
unique and nice to smell. it looks good as a decor too!
11/09/2022
Mich L.

Singapore
Loving the scent
Its a beautiful product and works really well. the light scent is not overly strong and just right for me, thanks.
10/28/2022
Helen P.

Singapore
Good
A nice addition to my office desk and the scent is not disruptive to my co-workers. Only I get to enjoy it haha. Love the fact that I can turn it off to save the oil by not flipping it.
10/21/2022
YC L.

Singapore
Pleasing soft scent that works for me
Been using their bedding products all the while so decided to try their new aromatherapy range. Their hourglass diffuser is unique and beautiful! It is not overpowering and gives a light natural scent which I love it!